If you have curly or frizzy hair, you've probably considered trying a hair smoothing treatment at some point. These treatments can completely change your look and reduce your morning prep time. Smoothing treatments can give either permanent or semi-permanent results and bring much needed relief to people who struggle with curly or frizzy hair. Keep reading to find out which smoothing treatment is right for you.
Smoothing Options
Semi-Permanent Smoothing
Best known as keratin treatments and Brazilian blowouts, semi-permanent treatments add a protective protein layer around the hair shaft to eliminate frizz and smooth the hair cuticle. This treatment is fully customizable, meaning that you can keep some or all of your curl while removing frizz. Keratin treatments do not make the hair permanently straight, but rather silky smooth and frizz free. This treatment is safe for people with colour treated hair and can actually make colour-damaged hair look healthier. Results typically last about 3–4 months.
Permanent Straightening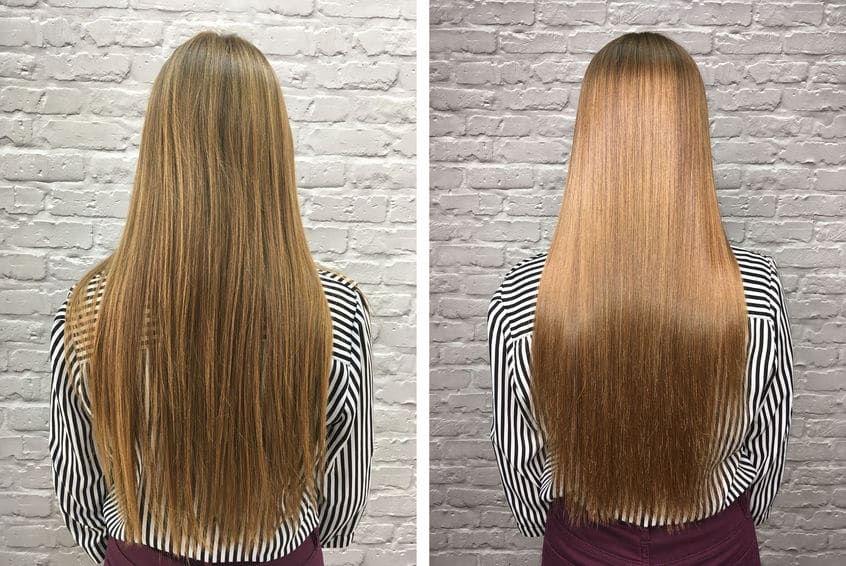 Best known as Japanese hair straightening, permanent treatments physically change the hair's structure. This gives you super straight hair every day you wake up. For many people, this is amazing because it drastically reduces hair styling time. However, because the hair needs to be manipulated, this treatment is not recommended for people with heavily coloured or damaged hair. Although a degree of straightening is experienced with all hair types, the best results are seen on people with mild curls rather than tight ringlets. If your hair is extremely curly, you will most likely end up with waves rather than perfectly straight hair. As your hair grows out, your roots will need to be touched up if you want to maintain your straight look.
How the Processes Work
With permanent straightening methods, the hair is treated with a straightening solution that breaks the protein bonds in the hair strands. It is then washed out, blow-dried, and straightened. A neutralizer is applied, and then washed out again. This process can take anywhere between 2 and 4 hours depending on how thick and long your hair is.
With semi-permanent methods, hair is first shampooed thoroughly to remove any build-up. Salons typically pair smoothing treatments with deep-conditioning hair masks so that your hair is healthy and protected. A liquid protein, such as keratin, is then applied to the hair and locked in with a hair iron. This process takes about 1.5 to 2 hours to complete.
Aftercare
Whether you opt for a permanent or semi-permanent treatment, you will not be able to wash your hair for 3 days afterwards. It is a good idea to buy a dry shampoo ahead of time if you are prone to greasy hair. You are also advised to avoid anything that compromises the straightness of your hair for 3 days. This means no bobby pins, putting your hair behind your ears, or putting it into a pony tail.
If you are thinking about colouring your hair, it's best to do it before a keratin smoothing treatment. The keratin can actually help lock in the colour, making your colour last longer.
If you want a haircut, it's actually better to get it after the smoothing treatment because your hair will lay differently when straight and smooth. With both treatments, using sulfate-free shampoo can prevent the smoothing product from washing out, making your results last longer!
Follow VaniZine for more tips on how to achieve the best version of you!
The top hair salons are just a click away! Visit Vaniday and make a booking today.