There's just something about the aesthetic of Korean celebrities, from their effortlessly chic hair to their flawless skin. The Korean wave has been only growing since, and now everybody wants a slice of the pie. There are so many Korean hair salons of there, but like all Singaporeans, we only want the best. We've done the hard work for you — here are 5 of the best Korean hair salons in Singapore for you to consider for your next haircut!
Aqua Hair Korean Salon
Aqua Hair Korean Salon is the right match for those who are looking for an all-around Korean hair salon. 9 years of experience and passion for their job make these guys the best experts in hair. When you get there, you will be warmly welcomed by their friendly staff. They have many amazing offerings including blow dry, rebonding, perm, haircut and more. You can also experience Korean hair and scalp treatments that will restore the health condition of your hair. Aqua Hair Korean Salon is a great choice for you to pamper your hair and enjoy an authentic hair makeover at affordable prices.
Book Aqua Hair Korean Salon on Vaniday.
Brush Hair Salon
Brush Hair Salon is a one-stop-shop for you to have a healthy and stylish hair. They have many hair and scalp treatment offerings to choose from. These guys are experts on golden rules of haircare. They offer Awapuhi Wild Ginger hair treatments and more at affordable prices. The salon's expert stylists can help you to find the right haircare regime for you while you are enjoying your 'me time' in a cozy atmosphere. Not to mention the fact that the cuts, colour services and styling are amazing too. Brush Hair Salon is one of the ultimate destinations for fuss-free hairstyles and colour. They have many services for both men and women including haircut, styling, colouring and highlights.
Book Brush Hair Salon on Vaniday.
Leekaja Beauty Salon
Having been in the business for over a decade, Leekaja Beauty Salon is well-known amongst Singaporeans and remains a go-to for a foolproof Korean haircut. It's not only us who thinks so — they have over 3,000 reviews on Google! Located in Mandarin Gallery, the salons services a wide-range of clientele across the ages. Some of their most popular beauty treatments are Cinderella treatment, hair colouring, hair perming, and different haircuts. With over 200 outlets globally, you can be sure that you are in good hands at Leekaja.
DuSol Beauty Korean Hair Salon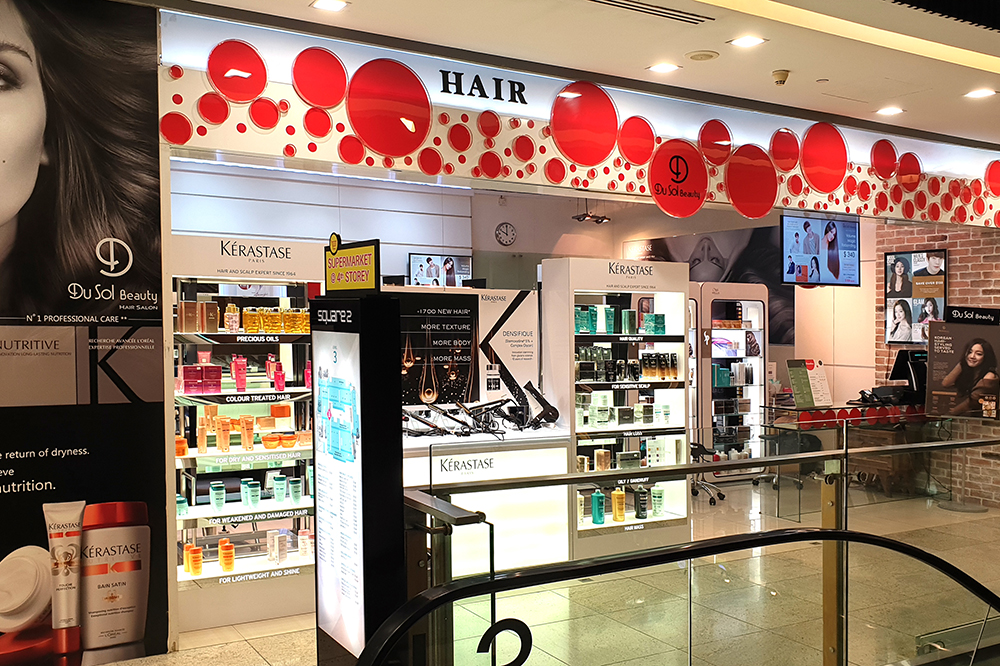 With close to 15 years of experience on their hands, DuSol Beauty Korean Hair Salon is another safe choice when seeking out a quality Korean haircut. They have two outlets, one in Orchard and one in Novena. All their in-house hairstylists are Koreans from Korea. Stylists have years of hairdressing experience, with expertise in Korean perm, so you can be sure they know what they're doing!
Walking On Sunshine
If you're a sucker for cute concepts, you will love Walking on Sunshine. A hair salon and cafe rolled into one, this quirky salon is located at Orchard Central. Run by the same team behind Leekaja, they offer Korean hairstyles, haircuts, hair treatments, and more. Expect nothing but the best service by its friendly, international team of stylists. After your haircut, head over to the cafe to get your fill on Korean fusion food and beer buffets.
Be it in hair or skin, Korean salons are leaders in both and have paved the way to achieving better beauty. Interested in Korean skin care? Click here to find out more.
Follow VaniZine for more lifestyle tips and beauty know-how!
The top salons are just a click away. Visit Vaniday and make a booking today!