We've seen history repeat itself in 2022 with '90s-inspired hairstyles becoming on trend again. So it's not surprising that the ultimate Y2K accessory, the claw clip, is all over Instagram and TikTok.
One of the many reasons people love claw clips is because they're so low maintenance yet chic. Plus, claw clips have very professional purposes as well. Many hair salon katong use them to hold their client's hair in place. If you're looking for a good hair rebonding singapore to refresh your locks for fall, check out Vaniday's extensive directory.
Running out of ways to wear this versatile hair accessory? Here are some cool claw clip hairstyles you can try:
Also, because they don't put as much strain on your hair, they reduce the risk of breakage and split ends when using traditional elastics for ponytails and buns. Additionally, claw clips serve important functions in the workplace. They are used in some Singaporean hair salons to keep clients' hair in place.
Here are a few ideas if you're looking for new ways to style your hair with a claw clip.
The New-Age French Twist
Claw clips have replaced bobby pins as the go-to hair accessory for the popular TikTok hairstyle of the moment, which is a tweak on the classic French twist. Just pull your hair back into a low pony to give it a go. Start by wrapping your fingers once around the section of hair you're holding into a ponytail, and then continue twirling it until just the very tips of your hair are visible. Use a claw clip to secure everything in place, and you're done!
Swift and Simple Twist
This is the easiest possible style for people who have trouble recreating the intricate curves of claw clip styles. Hold your hair as if creating a low ponytail to achieve this look, but leave two front parts out to frame your face. Follow this by securing a clip at the back of your head once you've twisted your hair and aligned it. (It resembles the French twist, except instead of folding the twist in half, it is twisted in a spiral.) Apply some hairspray and use bobby pins to slick back your sides.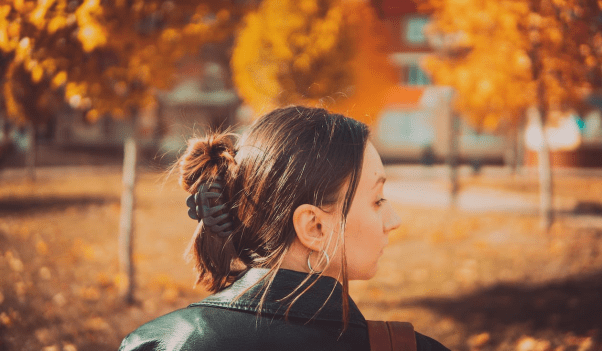 The Claw Clip Half-Do hairstyles
This is the hairstyle for you when you want to experiment with a half-up, half-down look. All you have to do is grab a little portion of hair from the crown of your head and twist at its base. You can then use a claw clip to keep the twisted part in place while letting the remainder of the top section flow free.
The Sophisticated Twist hairstyles
Here's another claw clip updo, but with a different twist. For the sophisticated twist, start by holding the clip in one hand while gathering your hair into a low ponytail, just like we've been doing for the other styles. Now insert the hair strand in your hand through the open clip's center and wrap it downwards following the clip's side. Once you've got it completely twisted around, you can fasten the clip to your hair to keep it in place.
Braid Accessory
Of course, a braid is stunning all by itself. But if you're bored of the typical braid styles, why not spice things up with a trendy accessory? A claw clip will make your hairstyle look polished and finished, no matter what kind of braid or fishtail you're trying for. Plus, it will help keep the braid secure and stay in place all day long.
Thick Hair Holder hairstyles
Anyone with long, thick hair knows that trying to keep a claw clip in your hair is a challenge. This technique uses long claw clips as a reinforced ponytail holder to solve this problem.
You'll begin by tying your hair into a low ponytail and then dividing the hair directly above the ponytail in half. Once you've created a little opening, reach through it and pull the ponytail upwards through this space. Hold your nifty hairstyle in place with a claw clip.
Quick Messy Bun hairstyles
Whether you're stepping out for errands or a casual hangout, you can't go wrong with a messy bun. A messy bun is a great way to keep your look on point since it is so convenient to carry and accessorize. To achieve this look, pull your hair back into a low ponytail, twist it, and use hairspray to give it some hold. Then you can twist it into a bun and fix it with a couple of tiny claw clips before adding a larger one to finish the look.
'90s Updo hairstyles
Choose a timeless tortoiseshell hair clip and wear it to the side to create a loose bun for a hairdo reminiscent of the '90s. If you want your natural hair texture to shine through, or if you don't want to mess up your day two hair, this is the style for you.
Sleek Top Knot hairstyles
Want to learn how to look like an off-duty model with just one small hair accessory? Cut down on the number of hair ties and bobby pins you use by switching to a hair clip. When you've mastered the art of the top knot (i.e., the classic twist and wrap ponytail), finishing touches like little claws will make you look like a million bucks.
Simply Ponytail hairstyles
Lost your scrunchie on your way to work today? Have no fear. If your hair is thick enough, a claw clip can help you hold it in place. If you want to grip and hold onto your strands without any clunky grabbing or holding, choose a bigger claw clip or go for two smaller ones.
Multiple Braids hairstyles
The half-up hairdo will look very different if you incorporate braids. Braid the hair that is hanging loosely down the back of your head. Incorporating a different number of braids or braids of varying thicknesses might give you a new look. This is one of those looks that you can have fun experimenting with. Just remember to add lots of small claw clips in fun colors to jazz up your look!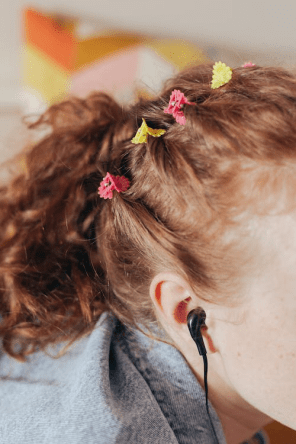 Tiny Claw Clips hairstyles
Tiny claw clips are a Y2K must-have. Claw clips come in a wide variety of shapes and sizes, but the tiniest and daintiest are the ones that look like butterflies or miniature flowers. Simply cascade them through your hair, use them to bind your bangs, create a bubble braid, or make a high ponytail.
They complement curly hair well since the increased volume helps them sit on top of your hair. Use tiny, floral jaw or butterfly clips to pull up part of your short hair for a simple yet adorable look.
Fancy Half-Bun hairstyles
Look no further than this stunning claw clip hairstyles if you're searching for a glamorous new do for a major event. A few stages are involved in achieving this appearance, but we think you'll agree that they're well worth it.
To achieve this, part your hair down the middle, leaving out two face-framing strands. Next, gather the hair at the crown into a bun and loosen the twists at the ends to create a plume effect. Now you can proudly show off your version of the chic half-bun!
'70s Ballerina Bun hairstyles
Hairstyles reminiscent of the 1970s are currently all the rage, and we can't get enough of the ballerina bun with a claw clip twist. Here's how it goes: After tying your hair in a ballerina bun at the crown of your head, fix it with a vertical claw clip. Now you can pull forward a few strands to frame your face, and you're done!
The Long Hair Hackhairstyles
Long hair is stunning on its own, but spicing up your style with a claw clip is a simple way to draw attention to your hair with very little effort. If you are born with naturally straight hair, you can try using a curling wand to add some texture and movement to your locks before continuing. Next, take a chunkier section of hair from either side and secure it with a claw clip behind your head.
Exaggerated Low Ponytail hairstyles
Consider this a French twist that was never quite completed. You won't be hiding your hair as much but rather keeping it in place so that its length may shine through. If you follow these steps, you'll end up with a gorgeous ponytail that cascades down your back. As with the thick hair holder style, a larger clip is recommended for this one so that the back of your head is covered.
Looking for an Affordable Hair Salon Near You?
Check out Vaniday's extensive directory to explore some of the top hair salons in your area. The beauty platform lets you find top wellness spa singapore and salons in Singapore based on the services you want. They also offerup to 20% cashback on selected salons.
Visit their website to know more.